Up to 60 resources sector senior industry leaders converged at the MEC Mining and Siecap jointly hosted Industry Breakfast Forum at the Brisbane Club on Friday, May 13.
And despite the superstitions surrounding the day's date – it was far from all doom and gloom forecast for the industry as the mining downturn bottoms out.
Resources sector experts on the event's panel discussion included Morgans Financial Resources Analyst Tom Sartor, Siecap Advisory Board Member Rob Neale, MACH Energy Australia Managing Director Scott Winter and MEC Mining Director, Ted Boulton.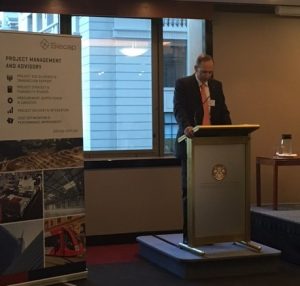 The panel, led by Siecap Advisory Board Member Tim Crossley former President and BHP Billiton's West Australian Iron Ore and MEC Mining Managing Director Simon Cohn, discussed the current markets, events and future predictions under the overall theme, "Don't Waste a Good Crisis".
Given the industry currently has three times the national average for long-term unemployment and plunging commodity prices are seeing companies slash costs, the panel was asked to comment on: "What opportunities does the crisis bring?"
Tom Sartor shared his many insights as an equities analyst. He said it was a very interesting time for long-term investment, with much money in the market, poised and waiting in Asia, for the right opportunities. "BHP will increase their investments next year, which is a very good sign," he said.
Next up, Rob Neale – who has almost 50 years of industry experience as a former Managing Director and Chief Executive Director of New Hope Corporation – spoke of the actual benefits of the downturn. "A good crisis should provide clarity of view – what have you done and what are you going to do," he said. "Think like a buyer."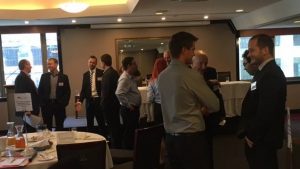 Rob also put the call-out to the crowd to make sure they invested in good people, executed good business management as "cost-cutting is not a business strategy" and didn't make the same mistakes, such as allowing costs to escalate, in the future.
Scott Winter, an industry veteran with 20 years of experience in coal mining, shared how a health scare made him embrace a "healthy body, healthy mind" mantra. He spoke of growth in the coal industry and revealed how he identified market opportunities.
Finally, Ted Boulton, who has more than 17 years of experience across all commodities, unveiled how innovative solutions can work can make a big difference to company productivity and profit. "People get stuck working in the industry, not on it," he said. "It's vital to look at what opportunities are out there. Small improvements can make a big difference – continuity is a big issue."
Siecap is a thriving, growing business which focuses on three core areas: project development and project management consultants, cost optimisation and performance improvement, and supply chain and logistics. For more information visit www.siecap.dev.cc.au.