Armed with 35 years' experience in the Australian Industrial Property market, including 15 years as Managing Director and 15 years as Director of Knight Frank Australia; Grant Whittaker has a sterling reputation in the industry for delivering sustainable value for his clients.
Siecap is honoured to have him on their advisory board, as his insights and experience into the industrial property arena will boost the firms and supply chain and logistics offering, servicing clients such as; Caltex, Super Retail Group, Mercedes Benz, CSR, Toyota, AGL, Incitec Pivot, BMW and more.
Grant has created an extensive contact network over his career, built on his respect for people, whether they be clients, colleagues or partners. Grants expertise extends to industrial site identification and acquisition, development planning, lease structuring and investment packaging. Grant is also a qualified property valuer and a Fellow of the Australian Institute of Company Directors.
Grant thoroughly enjoys being a part of the diverse and dynamic team at Siecap and finds the working culture to be rewarding.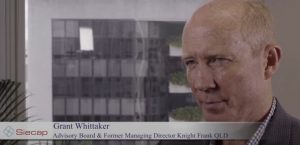 "Siecap has a very independent and focused service offering and their strength lies in the ability to leverage incredible resume of experience and listen to their clients to tailor an excellent offering in the supply chain and logistics optimisation and project management space" he explained.
Moreover, Grant considers his knowledge of the operational side of business imperative when advising other businesses on how to function more efficiently. Grant also has extensive management experience, and enjoys gaining a true understanding of people, their businesses and their motivations.
His biggest career achievement to date has been running the Queensland office for Knight Frank. He transformed the business into an extremely profitable one with an annual turnover exceeding $20 million, whilst growing the team from 50 to more than 120 personnel. This success lead to his appointment to the trans-Tasman team, where he managed 12 separate businesses.
Siecap CEO David Irvine said Grant Whittaker's deep understanding of the industrial property market in Australia and New Zealand has certainly bolstered the firm's capacity to provide even more value to its clients over the years.
"Grant is an expert in his field. His industry aptitude coupled with his business acumen make him an integral member of our senior team to better serve our clients," Mr Irvine said.
Looking to the future, Grant sees fluctuations in business confidence continuing to be the most impactful trend affecting the non-residential sector.
"The last ten years have definitely been challenging. There may be continued volatility in the market for the rest of the year, but overall business confidence is looking to improve in the medium term," he said.
When asked what advice Grant would give to junior professionals, he said "be patient and persevere. The property industry is a great industry to be a part of. Get the qualifications you need, stay the course and commit yourself to the industry."
For more information about Siecap's Logistics and Supply Chain Property solutions, watch their capability video here: https://www.youtube.com/watch?v=X7N1iKauKG8